It's NSYWE Audition Time!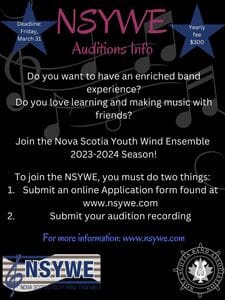 ---

NSYWE CONCERT


with our guests




The Royal Canadian Navy Stadacona Band



February 5, 2023

View our NSYWE LIVE STREAM
February 5, 2023, 2:00 pm
https://youtube.com/live/RxSKRYyiDtA?feature=share
Please encourage your friends and family who are watching the live stream to make a donation to NSYWE.
E-Transfer to:   nsywe@eastlink.ca
The Live Stream cost is $500.
View our Live Stream from the October 2022 Concert below.
https://youtu.be/kDbC4B8CFuM
If you are viewing our live stream please consider making a $5 donation to NSYWE for the cost of producing the live stream.
E-transfer are accepted at:        nsywe@eastlink.ca
---
Nova Scotia Youth Wind Ensemble
Welcome to the Nova Scotia Youth Wind Ensemble website. The NSYWE is Nova Scotia's honours wind ensemble for talented young musicians from junior high school to university age.
The NSYWE's mandate is, …"to provide a high-quality educational experience for talented young musicians in a manner and of a quality otherwise not available to them."
Each season, the NSYWE meets for three weekends in the late summer and fall, including boot camp, and present a fall concert. The team re-groups in the new year for three more weekends and presents a winter season finale concert during the third weekend.
Approximately 60 musicians play in the NSYWE. Prospective members submit recorded auditions in the spring and those who are accepted into the ensemble are invited to attend a weekend boot camp in late summer.
The NSYWE is fortunate to have an ongoing relationship with the Stadacona Band of the Royal Canadian Navy, and will collaborate with them on our winter concert. Their leadership and role models create an exceptional partnership and environment for hands-on learning and skill development.
SUPPORT THE NSYWE
You can support the ongoing work of the Nova Scotia Youth Wind Ensemble, even if you cannot attend the concert, through a personal or corporate donation. E-transfers are welcome at nsywe@eastlink.ca; please e-mail us to arrange a corporate donation.
All corporate donations will be will be acknowledged on our Sponsors and Benefactors page, either by name or anonymously. We thank you, in advance, for your generosity.
If you have any questions or just need to chat, please do not hesitate to email me, Hope Gendron, at: nsywe@eastlink.ca.
Thank you!